Fire in the Water, Earth in the Air: Legends of West Texas Music
by Christopher Oglesby
Published by the University of Texas Press:
"As a whole, the interviews create a portrait not only of Lubbock's musicians and artists, but also of the musical community that has sustained them, including venues such as the legendary Cotton Club and the original Stubb's Barbecue. This kaleidoscopic portrait of the West Texas music scene gets to the heart of what it takes to create art in an isolated, often inhospitable environment. As Oglesby says, "Necessity is the mother of creation. Lubbock needed beauty, poetry, humor, and it needed to get up and shake its communal ass a bit or go mad from loneliness and boredom; so Lubbock created the amazing likes of Jimmie Dale Gilmore, Butch Hancock, Terry Allen, and Joe Ely."
"Indeed, Oglesby's introduction of more than two dozen musicians who called Lubbock home should be required reading not only for music fans, but for Lubbock residents and anyone thinking about moving here. On these pages, music becomes a part of Lubbock's living history."
- William Kerns, Lubbock Avalanche Journal
---
Stubb's 11/12/06
WHAT THEY'RE SAYING
---

To everyone:
I am writing you all to let you know how great it was to see you Sunday night in Austin. Chris' book was definitely represented in great Texas style and tradition. I know he is proud. The music was unbelievable! I am proud to be associated with all of you.
Thank you Bob for doing such a professional job and to you Dee for all of your hard work as well. Chris, thank you for including me in your event.
I hope to see you all again in the near future.
Sincerely,
Jay Boy Adams
---
It sure feels good to get together with so many old friends to do a kick-ass show for everybody. Yes, Bob did a great job of stage managing...just one person running a show like that is a HARD JOB ...if you've ever done it you know what I mean. Everybody was great. More!
Richard Bowden
---
Chris:
Thanks for making it happen! It was truly a wonderful
reunion and we all owe you one!
Colin Gilmore
---
Sunday night's show reminds me of the magic invoked by kindred spirits in a hallowed hall. Peace, love and happiness to you all! The music, poetry, good vibes, and people watching was beyond description. Jesse and C.B. are grinning at each other even now! Let's not let this "Fade Away"! Let us all work on next year's event. Call it whatever you want, but let it please be something to look forward to!
Let's do it in Austin, let's do it in Lubbock. But don't let it fade from our memory!
To all you wonderful and beautiful people, this is my prayer!
Dee Purkeypile
---

I have heard from COUNTLESS people that it was one of the best nights of music they'd ever seen...Thanks Bob for doing such a great job-- everything ran so smoothly. Thanks for letting me be a part of it. Can't wait to do it again...
Jay Hataway
---

Chris,
You're a lucky man. Truly. I am proud of you.
Your friend,
Cary Swinney
---

Hey, Chris-
You bet, man. It was special and, not the least because of your interest in the subject at hand. Anyway, let's do it again and get a bunch more of us there.
Ponty Bone
---
I felt privileged to have been included and appreciate the opportunity to participate. When are we going to do a Lubbock book release? I think it would be very easy to put together the same type thing up here. You should sell a bunch of books here. Big party. Built in entertainment.
Paul Bullock
---

I had a great time on Sunday. Thanks for such a good party.
Nicole Taylor
(Jesse's daughter)
---
Dear Chris,
So nice to hear from you and congratulations on the sucess of your book. I sent a reply to the gentleman helping you with your event, and informed him that Bobby is unavailable, due to him being on tour with the Rolling Stones.
Holly Keys
---

It was fun!
Texana Dames
---
It was a blast but I have a few regrets. One: I wish I had brought my book to get signed by everybody. (Damn!) Two: I wish I had had the presence of mind to invite Stu Cook of Credence Clearwater, who was in the audience, to play on a song. Three: I wish I had not babbled incoherently to Billy Gibbons about the Thai stick haze I was in when he sat in with the Gonzo Band at the Grateful Dead Party at Manor Downs in 1975. Still doesn't make sense...Other that that, I think we should do it in Lubbock ASAP.
Thanks to everyone.
Bob Livingston
---

Were you there?
Please share your photos & stories
---
WOW! What a fantastic celebration this was! Thanks to everyone who participated.

---
November 12, 2006
Austin Texas
Stubb's Bar-BQ & Live Music
FREE ADMISSION! 6:00pm - close:
Lubbock All-Star Stubb's Sunday Night Jam Reunion
Book release celebration, book signing, with Special Musical Guests.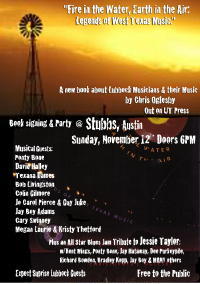 Megan Laurie w/ Kristy Thetford
David Halley
Colin Gilmore & Jimmie Gilmore
Cary Swinney, Richard Bowden,
Michael O'Connor
Texana Dames & Tom X
Bob Livingston w/ Richard Bowden
& Bradley Kopp
Jay Boy Adams Band
Jo Carol Pierce, Guy Juke & Band
Ponty Bone with Dee Purkeypile,
Steve Lott & Band
All Star Blues Jam
Tribute to Jesse Taylor
w/ John X Reed, Kent Mings, Ponty, Dee, Michael O'Connor, Steve Lott,
Jay Boy and the Kitchen Sink
SURPRISE GUESTS INCLUDED:
Jimmie Dale Gilmore
Billy Gibbons of ZZ Top
Paul Bullock
Tom X
In the audience: Stu Cook of CCR, Billy Bob Thornton, and many other Austin and Lubbock celebrities!

---



PHOTO CREDITS: all by David Munoz, with exception of (*) which are by Jordan Weeks
Poster art by Bob Livingston; original book cover image by Guy Juke