Fire in the Water, Earth in the Air: Legends of West Texas Music
by Christopher Oglesby
Published by the University of Texas Press:
"Indeed, Oglesby's introduction of more than two dozen musicians who called Lubbock home should be required reading not only for music fans, but for Lubbock residents and anyone thinking about moving here. On these pages, music becomes a part of Lubbock's living history."
- William Kerns, Lubbock Avalanche Journal
Chris Oglesby's virtualubbock


Promote Your Page Too
Got News? Let's hear it!
Please visit prettycoolart.com established April 2015

---
For daily news, commentary, new videos, etc.:
Please visit and "Like" our fan-page on Facebook.
Chris Oglesby's virtualubbock


Promote Your Page Too
Feel free to stop by and post your news, pics, opinions, and videos!
---
Amanda Shires video "Detroit or Buffalo"
- made in Lubbock by Lubbockians
Lubbock's own Amanda Shires is breaking out this year as one of Americana's best young songwriters and performers. American Songwriter Magazine has announced Amanda in the Top 5 songwriters of 2011 (topping such heavyweights as Tom Waits and Paul Simon). Amanda's 2011 CD release "Carrying Lightning"
has been earning major kudos. This summer Lubbock native Tim Harman directed the video for Amanda's recording of "Detroit or Buffalo" (written by Barbara Keith of Stone Coyotes, the only cover song Amanda performs on Carrying Lightning). This video was shot entirely in Lubbock and features Amanda's friends Lubbock musicians Daniel Fluitt and Kris Killingsworth (Thrift Store Cowboys), Brandon Adams (The Sad Bastards), and Amanda's frequent songwriting and touring partner Rod Picott. Many other Lubbockians* stepped up to contribute space and props for this colorful video.We know how to make music and fun in Lubbock!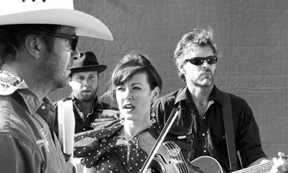 Tim Harman, Daniel Fluitt, Amanda Shires, Rod Picott
photo by Abbie Normal
Lubbock folk who worked on the video:
Tim Harman - Director
Don Benson - Director of Photography (not from lubbock but shot Squarehead video 20 + years ago in Lubbock)
Chris Caddel - 1st Assistant Director
Cole Hasie - Art Director
Kendall Rabon - Stylist
Tom Copeland - Ex- Texas Film Commissioner sat in sun all day with hands on bumpers giving the car a rocking motion
Digital Base Productions - Location production company - provided camera and grip support
The Bijou Salon - they nailed the hair on the 4 Gossipers
The dozens of incredible vintage vehicles - all Lubbock Based
The Ex-Masked raider brought the horse
A Few Dallas folk where here - but 90% Lubbock Folk
---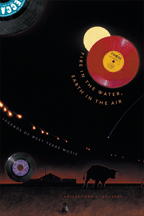 New MP3 Department in General Store
The virtualubbock General Store now has a page featuring MP3s available for purchasing from Amazon, entire albums and individual tracks, by legendary Lubbock artists such as Joe Ely, The Flatlanders, Cary Swinney, Andy Eppler, the Legendary Stardust Cowboy, Amanda Shires, and more!!!
---

Spotlight on Lubbock!
LoneStarMusic magazine vol. 4, issue 3 spotlights musicians from Lubbock.
Joe Ely is on the cover. Editor Richard Skanse gives kudos to author Chris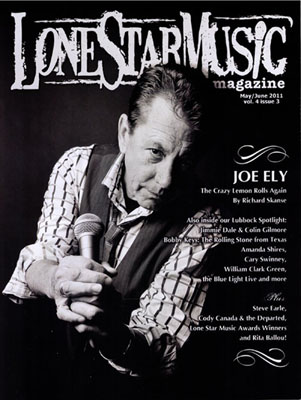 Oglesby in his "Notes from the Editor" column on page 2, and yours truly contributes FOUR (4) articles, including: a profile of Amanda Shires; profile of Cary Swinney, a true hidden gem; an introduction of three "New Faces" : William Clark Green, Brandon Adams, & Charlie Shafter; and a venue spotlight on The Blue Light Live.
Also featured in this special Lubbock edition: a great interview by Skanse with Ely, whose new album is "Satisfied at Last
." Also, a complete discography review of Ely's entire catalog, including work with Flatlanders, Los Super Seven
, and more. There is review of Amanda Shires' excellent new work Carrying Lightning
. Musician Eric Hisaw provides a great study on Lloyd Maines and Jesse Taylor as a power guitar duo, especially in the Joe Ely Band, andan interview with Bobby Keys; Eric reveals stories which the Rolling Stone and friend of Beatles never told yours truly; an interview with Jimmie Dale Gilmore; a reminiscence by Colin Gilmore about growing up on the weird side of Lubbock; another by Austin deejay & Lubbock native Chris Mosser, who describes the reality of growing up in the most legendary of music towns.
Pick up a copy at one of these locations!
---
Love Is Never Wrong, by Christopher J. Oglesby, 2010.
"Yes, Mike, you are correct: Love is never wrong. Except that makes no sense whatsoever. Jesus loves me, this I know. "
Author Chris Oglesby has been writing a series of short fiction stories set in Lubbock, dealing with the topics of music, sports, politics, and religion; these are all ripe subjects for discussion in West Texas.
Please read Oglesby's most recent story.
---
So...what else is new?

Visit us on Facebook at: http://www.facebook.com/pages/Chris-Oglesbys-virtualubbock/49458113297