Virtualubbock is a kaleidoscope to explore West Texas music, art and literature.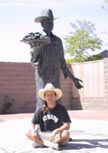 Virtualubbock offers legends of supernatural outlaws and perfect masters of self, howling dust storms and magic rainbows, paradox and prairie dogs, the religious right and Zen mysticism, flying saucers and shooting stars.
Join author Christopher Oglesby on his quest to reveal the mythology of his hometown, and discover why Lubbock truly is the mystery power spot of the Lone Star State.
Kudos - Read what the artists and fans are saying about us

Listen to the story on Texas Music Matters about the book
Fire in the Water, Earth in the Air: Legends of West Texas Music
by Christopher Oglesby

Please also visit prettycoolart.com established April 2015