Chris Oglesby Interviews
Lloyd Maines
Cedar Creek Studios; 11/21/00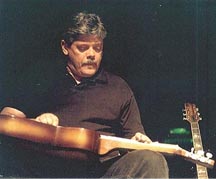 Chris: Lloyd, you've worked with such
recording greats as Norman Petty and
Don Caldwell, and you've been named name "Producer of the Year" in Austin both years that you've lived here in Austin. So I want to get your opinion on how Lubbock has affected music as a whole, "globally" - from everything from Buddy Holly to Natalie Maines. And then locally, about how it's really contributed in the big boom in what has become known as "The Austin Sound" now. So if I could get your expert opinion on that…
Lloyd: To tell you the truth, even though I was born and raised in Lubbock, I didn't really get a grasp on how much Buddy Holly, for instance, had influenced music worldwide until I started playing with Joe Ely; This was like 1973...But until I heard Joe doin' his versions of Buddy Holly music, to tell you the truth, I had never even paid that much attention to Holly's music. I always knew it was there but I never paid that much attention to it.
Whenever I went to England with Joe and toured with The Clash - this was in 1980...Until I went over there, I didn't realize what an impact Buddy Holly and the whole Lubbock scene had on England. Because we landed over there and they treated us like we were kings, and it was because we were from Lubbock! It was because we were from West Texas, and there was still a very lasting kind of "imperialism" of the Buddy Holly scene over there. The fact that we were from Lubbock made us part of that. So I think that I just started realizing what an impact Buddy Holly had at that point.
Then when I was a kid, my brothers and I would play all around the West Texas area; We would play some places where we would be at a high school gymnasium for a dance on a Friday night and we'd see posters where Bob Wills was gonna be there the next night. And at that point, we weren't impressed. I mean, we just did our gig and then went on back home or to the next gig or whatever.
Had I known that I was gonna value the Bob Wills influence so much as I do today, I would have never taken that for granted. I would have made an effort to hear Bob Wills Live, at least once, which I really regret never doing.
We would just take it for granted, which is a shame that we did that. But he had such a tremendous affect on Country Music worldwide. I mean from George Strait's first recording, you could tell that it was Bob Wills influenced, even to the point where Johnny Gimble played fiddle on the recordings. Every country artist that's come along has tried, or at least attempted, some Western Swing. And that all started with Bob Wills.
Chris: And Waylon, who I think doesn't really like playin' "Western Swing" that much, he did write the song…
Lloyd: Bob Wills Is Still the King. Exactly!
Chris: Waylon's someone else from Lubbock. Did you ever know who he was in Lubbock?
Lloyd: Yea. When he was a deejay at "K-triple-L", I remember when I was kid Waylon Jennings being on the radio there. My dad and uncles would actually do some concerts in the park and some of the various musicals, and I remember Waylon Jennings being a part of that.
Chris: I was gonna ask you about that: There was a previous Maines Brothers Band, that was your dad and his brothers. Tell me a little about them; tell me about your dad and his brothers.
Lloyd: Well, they didn't do a lot of original material. They did a lot of Western Swing; a lot of Bob Wills, Hank Thompson, Ray Price…The old honky-tonk dance music is what they played, and they were really good. They had a good steel player, a good fiddle player.
Chris: Were they a "working" band or where they just doing it for fun?
Lloyd: Weekends mainly. Sort of "weekend warriors." They all had other jobs.
Chris: I guess you pretty much would have had to back then and there. It would have been hard to make a living doing that.
Lloyd: Right. But that was really our first taste of it. We would hear them, listen to them. And then as The Maines Brothers we just started out singing when we were just young teenagers. My dad would take us to their gigs and get us up to sing for the crowd.
And then later on we started playing instruments; that's kinda how all that started.
Whenever I was fourteen, we just started playin' gigs. I mean, we started playing every weekend, and we really thought we were great.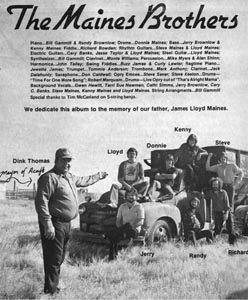 Chris: Where did y'all go to school?
Lloyd: Roosevelt, which is about 9 miles east of Lubbock, out by Acuff.
Chris: Was your dad a farmer?
Lloyd: He farmed until I was in about the 5th grade, and then the farming regulations changed and you could only grow so much cotton; so he started an automotive business up in town. So we moved closer to town, closer to Lubbock.
Chris: So did you have cousins that were playing with you, too, or was it just you four guys?
Lloyd: No. Just us four guys. My little sister didn't start singing until later on; when we started she was just a little baby. So it was just us four guys played all the way through high school. And then when I graduated, I went off to college and got married. Steve went to college; Kenny actually graduated and went to Las Vegas and started playing with a guy named Kenny Vernon. So we kinda parted ways for awhile. And Donnie actually was a lot younger. Whenever we all kinda spread out, Donnie was in high school.
So once everybody got out of school, we had kinda all gone our separate ways. I started playing with Ely in '73. Started working in the studio at Caldwell's in about '71, I guess. Whenever Kenny decided on coming back from Vegas, he and Steve decided to crank the band up again.
I was still with Ely so they got the Brownlow brothers, Randy and Jerry. So Kenny, Steve, Donnie, and the Brownlow guys just played for a long time, and anytime I was back in town from being out with Ely, I would play with 'em.
Then in about 1980 or '81, when Ely started doing so much traveling, he was on the road way more than I could be on the road, then I started playing with the brothers full-time again.
Am I getting ahead of myself? [Lloyd has caught Chris staring pensively.]
Chris: No! That's good! I didn't know any of this. But I'm wondering now -- I wasn't aware of the chronology -- How did you meet Joe Ely?

Lloyd: It was really kind of interesting. I was working in the studio in Lubbock…Well, first of all, I met Joe because I would go hear The Flatlanders. When The Flatlanders first started in 1970, a friend of mine who was playing bass with them, Sylvester Rice, told me a couple of times, "You gotta hear come hear this group of guys. They're three guys plus some friends that are just doin' this funky old folk music." I went and I heard 'em a couple of times live and I thought it was real interesting.
Chris: Where did you go to see 'em?
Lloyd: I saw 'em at a place called The Town Pump over on 4th Street, not too far from where Fat Dawg's used to be. Do you remember Fat Dawg's?
Chris: Oh, God, Yea!
Lloyd: Yea. I'm sure you hung out there a lot.
Chris: Yea. Definitely. [Laughs.]
Lloyd: The Town Pump was just east of there. It eventually burned down, I think. But I went and heard Ely and them there a bunch of times, and then Ely & Gilmore would come out to hear The Maines Brothers from time to time.
We used to play at this place called The Alamo out on The Strip, out on the Tahoka Highway. See, there was one time in Lubbock where there was music seven nights a week, in the late '60s - early '70s. Man, Lubbock was hoppin' as far as the club scene.
Chris: Now, why do you think that is? That's kinda what I'm trying to get at.
Lloyd: Well…That's a good question! For one thing: Back in those days, Lubbock was dry. Up until that point, any time anybody in Lubbock wanted to drink, they had to drive to Post, which is down below the Caprock.
So whenever they voted "liquor by the drink" in, I think it was kinda like a feeding frenzy. People could actually go out to a bar and drink in a bar. So, for a period of about seven or eight years there, it was really hot. Almost every club had music seven nights a week. It was a real, real hot spot.
Chris: Okay. I've not heard that theory. That's a good'un.
So this place was called The Alamo out on the Tahoka Highway?
Lloyd: It was called The Alamo. It was the biggest place out on the Strip. There was one bar out there called The Golden Nugget which was there for a long time; There was one called the Little Country Inn, or something like that…
Chris: And this was out where the liquor stores are now?
Lloyd: Right there where the liquor stores are now…
Chris: They used to have clubs there? I didn't know that.
Lloyd: Exactly. It used to be clubs and liquor stores. And it was a hoppin'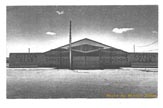 place, Man, seven nights a week. In fact…Did you ever go to the Cotton Club?
Chris: No. That was really closed before I was old enough. It closed just before my time. But my friend who's two years older than me was at that party where ya'll showed up with Linda Ronstadt…
Lloyd: Oh, yea! The Monterey party?
Chris: Yea. And I think that was right about the time that it shut down. So I wasn't really old enough.
Lloyd: Yea. It was really on its last-legs then. But see, before that…back in the late '60s The Cotton Club had music seven nights a week. They always had good bands.
Chris: The Ely Band? And was Butch Hancock playin' out there?
Lloyd: Yea, Butch would play out there some. I never played there with Butch; It was always with Joe. But the Hancock family…Tommy Hancock and Charlene and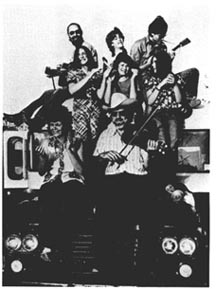 The Supernatural Family…They owned it so they were out there a lot.
But anytime that a touring band would come through they would play The Cotton Club. I saw Willie Nelson out there when he still had a crew cut!
Chris: Wow! [Laughs.]
Lloyd: So it was kind of a melting pot. It was far enough away…Like Amarillo was on Interstate 40. So any bands traveling down Interstate 40, going to or from the east or west coast would sometimes stop in Amarillo. But if anybody was heading south, by any means, they had to come through Lubbock so they would always stop of there and play.
Chris: So, it's basically that Lubbock is in the middle of nowhere.
Lloyd: Right. Exactly! It was always a pretty good pick-up gig for someone passing through. I know that it had a lot of influence on me. I mean, gosh! Learning to play steel when I was seventeen…I would go hear Jimmy Day, who was playing steel for Willie Nelson - He was just a tremendous influence on me, the inspiration for me to really want to learn how to play. He just died a couple of years ago.