Chris Oglesby Interviews
Paul Bullock
at the 1998 National Poetry Slam
Austin; 8/18/98

---
UPDATE: Paul Bullock won the 2005 Global Marijuana Music Award for his poem
"Car Pool Mom." Paul will be the Master of Ceremonies at both the 2006 Global Marijuana Music Awards in Coventry, England in July 2006 at the Weed World Expo, and at the 2006 American Marijuana Music Awards at the Seattle Hempfest which draws over 250,000 in August.
---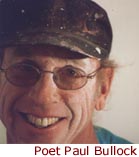 Lubbock native Paul Bullock is a spoken word artist. Through his friendships with local musicians Cary Swinney, Doug Smith, and others Paul has become a fixture in the bars and music clubs in Lubbock with his witty and lyrical bar-room recitations.

I became acquainted with Paul Bullock at a Cary Swinney show in a parking lot during Lubbock's "4th on Broadway," July 4, 1998. Paul had just taken the top honors at the Taos, New Mexico, Poetry Circus for recitation of his trademark poem, "The Car Pool Mom" among others. He was making plans to come to Austin later in the summer to participate in the 1998 National Poetry Slam Championships being held there that summer; Paul entered not for competition's sake, rather in hopes to get exposure for his art.

It was on the first day of the Austin Poetry Slam that I met with Paul to talk about Lubbock, art, the nexus between the two, and whatever other entertaining oddities arose in conversation.

Paul's poetry is really meant to be spoken. At the time of this interview, Paul was

recording a CD of many of his best oral poetry. That CD has since been finished and is called "Manfred's Midnight Monologue." (Manfred C. Balzac is the name of Paul's stage alter-ego.)
The opening track to the CD is an introductory free-verse poem that I want to transcribe here because it is such a classic display of the state of mind I am searching for in this study of the psyche of West Texas artists:
Introduction
My name is Manfred C. Balzac, and I am
a vagabond dreamer
With a poor set of directions
That have taken me on a most exciting adventure
That continues on today.

Expert at traveling hard and getting
no where,
I have found myself to be
tolerable company
So I have continued on regardless.

I find no comfort
In my past
Except that it belongs to me.
Only I have sinned against me;
Others bring joy.

I have practiced non-conformity
And continue still.
Now, I am thankful to have enjoyed
This great life so fully.

Now-a-days, folks like to call me
"The West Texas Poet Lariat" -
And the reason they like to call me
"The West Texas Poet Lariat"
Is because, when folks hear my poetry
They are roped and they are tied.

As I watch Paul's opening performance of "At the Passing of the Joint," - one of his usual crowd pleasers - it is apparent that Paul's style differs greatly from that of most of the other participants at the Austin Poetry Slam. While Paul's style is more of a spoken word performer - speaking to the audience in a personal, storytelling manner - much of the other poetry at the competition is of the angst-ridden, miserable soul-baring genre that fills teen-aged girls' diaries.
Paul's performance was animated but was met with a surprising sedate response. It seemed the culture of poet competitors did not appreciate Paul's folksy, lyrical manner.
However, the competition's featured poet, a young Asian-American woman from New England, did approach Paul and compliment him on his performance. (She approached no one else with a compliment, by the way). It was obvious Paul would not be popular with the competition, although receiving rave-reviews by the professional poets in attendance.
We conducted the interview on the rooftop bar at Waterloo Brewery on 4th and Guadalupe in downtown Austin (which is now, sadly, defunct; Er...The bar, that is - not Austin, by any means).

---
Paul: I moved to Lubbock from Washington, D.C. in 1957, when I was three years old. I stayed in Lubbock through the first couple of semesters of college. Then in 1971, I left Lubbock for awhile.
I was working on a government contract. We painted geodesic domes for the Air Force, and we were sent all over the world to paint these things. They housed radar screens, early warning defense systems.

It was real strange; At the company that contracted that work, there was a secretary from Lubbock, so she started getting guys here and there from Lubbock, and we all had a real West Texas kinda' friendly attitude and so they pulled a lot of people from Lubbock for the crew. As a matter of fact: While I was doing it, I would guess that there were probably fewer than 30 or 40 people that had ever done that kind of work for over a year, and like 12 of us were from Lubbock. It was incredible.

We traveled all over. And I still have my friends in Lubbock that I traveled all over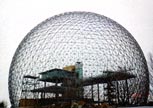 the world with when I was a young kid.
Those domes were incredible. The largest one I ever worked on was two-hundred-and-ten foot in diameter. It covered a building that was about 30 feet tall and the dome, at its apex, was probably close to 200 feet tall or more.
Chris: Wow! And y'all would get up on 'em and paint 'em?
Paul: Wash 'em, caulk 'em, paint 'em.
Chris: Were these in remote places? How would you get to these places?
Paul: Oh yea! Trains and boats and planes. I've been on a Korean battleship for transport and I've been on Dussenhaff trucks going up and down mountain roads and helicopters and small aircraft and trains and buses…
Chris: How long did you do that?
Paul: I did it from about '71 to '76 - about five years and a half years.
Chris: And then did you go back to Lubbock?
Paul: Yea. And I had my nice little Korean wife with me that I picked up in one of the brothels over there, and my newborn son. She's not my wife any more. Our children were seven and four when she split. She married a guy in the Air Force and started a new family. The kids stayed with me. She lives in Oklahoma City now, and we don't hear much from her. That was 15 years ago. I don't have any hard feelings. I was stupid to marry her to begin with.
Chris: So what did you do when you got back to Lubbock?
Paul: I've done a lot of different things. I worked as a salesman. I was a licensed audiologist for Belltone Hearing Aids for awhile. I sold swimming pools after my divorce. I sold meat and frozen fish door-to-door. And I was a security cop in Baltimore, Maryland, for the Social Security Building for awhile; got that job one summer through the same company that contracted the dome jobs.
Chris: What are you doing in Lubbock now?
Paul: I have an industrial paint contracting business. I usually have six or seven good months of industrial painting, and then I just don't do much of anything for the rest of the year. I paint grain elevators, cattle feed mills. I've been painting mills since about '80. When we got back from overseas, we didn't know that we had a skill.
Chris: What was that?
Paul: Well, everything that I've worked on since I was a young man has to do with height. I am an "Above-Ground Paint Contractor." I specialize in getting off the ground. Like the light-poles at Jones Stadium; I painted those. I've had the same customers for almost 17 years.
Chris: How long have you been doing poetry?
Paul: Publicly, for about 6 years now.
Chris: What made you get started doing poetry?
Paul: Mostly, I had all this poetry and I wanted to do it, and I had envisioned myself doing it. So I started memorizing small pieces, and I'd get up at parties. Then I was invited to get up at a music open-mic. Of course, I was hangin' out with Cary Swinney so…Cary - after seeing me do this stuff, y'know - he invited me on his stage, and it became a regular thing to the point where people associate us, now, as being almost "an act."
It's not like they're lookin' for the "Swinney-Bullock Act" but when people in Lubbock go to see Cary Swinney they a lot of times will ask, "Is Paul gonna' be here?" or "The poet guy gonna' be here?"
If it weren't for Cary Swinney I'd still be tryin' to figger out how I would get this stuff out to people.
Chris: These were things that you wanted to get out publicly. Had you been writing for a long time?
Paul: I wrote when I was a kid but I didn't really start "writing" until I was in the Seychelles Islands in the Indian Ocean. It's about 200 miles south of the equator; 1800 miles off the coast of east Africa; between Africa and the southern tip of India.
Chris: About as far from Lubbock as you can get, pretty much!
Paul: While I was overseas, I started smokin' a lot of pot, a lot of hashish, and I that's when I started writin'.
That was where I really started getting into the cannabis scene. I had tried it before but really didn't care for it. Then, we were on an island, and there were times when I thought I was gonna' go crazy because we were supposed to be there for three weeks, and I spent seven and a half months there tryin' to get this job done. So it just went on and on and on forever. I thought it was paradise.
I didn't realize how much I had learned and what my development had been; The process that I had gone through for seven and a half months on this island was mind-boggling - after I left the island and look back on it. 'Cause it was an international port, and I learned from a lot of different people...
And I started smokin' pot.
Chris: What year was that?
Paul: That would have been in '73, I think.
Chris: Tell me about some of the things you learned; You said that at the time you didn't know that you were changing but you felt like you changed…What happened? Tell me somethin' about what happened to you.
Paul: Island life tends to slow people down to a snail's pace. And I learned a lot about just relaxing and really not getting in a big hurry; 'cause I'm a real hyper guy. But y'know, you go into a restaurant and sit there for fifteen or twenty minutes waitin' for a glass of water, and when the waitress came, what were you gonna' do? Scream at her for holdin' you up? The island philosophy is, "Where you goin'? Slow down!" And because there was this slow-down period, there was experiments with drugs.
There was a need for me to write at that time. I dissociated myself, almost to the point of exile from my family who didn't hear from me for a few months. I was just a young kid and didn't feel like writing home.
We got kicked off the base, because we had women in the barracks; So we had to go live on the island off our own means. We rented a house in this little back-side of the island and had a young Seychellian maid take care of us and feed us and shop for us. And here I'm 22 - 23 years old! It was just fascinating!
And then I was meeting people from Scotland and Ireland and India and Australia, New Zealand, Germany, Switzerland. There was just all kinds of people and all kinds of influences. And we had a good time.
We were trying to stop the dome from leaking but when they built it, they built it wrong and so it had leaked from the day it was built. They kept us there for seven and a half months trying to stop a leak that couldn't be stopped. So it became very frustrating and there was no end to it. It was a test of patience and will.
My real first exposure to just total difference was in Korea, and it absolutely blew my mind. I just couldn't believe what I was seein'.
Chris: So much of the dynamic in Lubbock is that idea of "Normal." I'm so intrigued by the fact of this concept of "Normal" because there's no way that 'whatever that is' is normal because there are so many amazingly different things going on everywhere and always have been. People function in entirely different ways; But for some reason, people get into their minds that there's this one "right way to be" and that it is and will be always like that. Lubbock celebrates that very big fantasy in a big way. Like being on the island - What is normal there is totally different from what is normal somewhere else. And if you want "Normal Lubbock" and you're living onan island off of Africa or some little beach town in Mexico, then you're "Insane." You're a Lunatic, and you're in no way normal if you behave that way. [Laughs] That has really struck me while traveling and talking to people who travel; One thing that you learn is that there's really nothing that's "normal." Everything is different, everywhere.
I don't know what that has to do with anything.
Paul: Oh, it has a lot to do with everything! If you don't get out…That's the advantage I've had over a lot of people is that I've gone to places and seen things that "nobody else has seen." I mean, if you never leave Lubbock…
And I don't brag about having done it. Each person has the ability to get so far out from the radius and create....whatever. Hell, I was just fortunate that I was paid to go all around the world to do something that was educational and exciting for me. When I was 21 years old, I was in meetings with full colonels and generals and mapping out top-secret downtimes.
I mean, it was a real trip! Most of the time - We went to some remote places that weren't any fun, let me tell ya'. But mostly we'd go to whorehouses and beer-joints.
Chris: [Laughs long and loud]
Paul: You have to understand: When I was in the Far East, the Vietnam War was going on, and there were American troops all over the place; Everywhere! It seemed like every south-east Asian country had Uncle Sam's fingers somewhere in them. Hell, we ran whorehouses all over the Philippines 'cause they was "important to the cause in Vietnam." I was supposed to do some work in Vietnam but the tour I was supposed to go on was after the Americans had withdrawn. I went to Australia, the Philippines, Hong Kong, Thailand, the Seychelles, Iceland, Greenland; I've been around, and was real young when I was doin' it.
Plus, we always walked on the premises and all of a sudden we were heroes; we did this job dangling from a rope which made us super-heroes.
Chris: Pretty exciting. Yea.
Paul: Which is all a bunch of baloney.
Chris: [Laughs]. You were sayin' you were getting into "the cannabis scene" at the time; Talk about that a little bit.
Paul: I wadn't concerned with pot until I was working with a guy named Earl Johnson. He was a Baltimore man. He was Black. And he loved to smoke. He got along well with some of the locals who smoked. He finally talked me into it...
I got high for the first time when I was in Lubbock but I was always drinkin' beer and then smokin' pot, so as a young person I thought I became sick from pot; so I had just stopped doing it.
And then when this guy finally talked me into doin' it, I was convinced, "I'm gonna throw up!" I was huggin' the toilet waiting to throw up; and he stood in the bathroom door just laughin' at me. I started laughin', and from that day on I became a very serious pot-head.
We ran into some people from Virginia who had been there forever. The guy spoke fluent Seychellóise and his mother owned a hotel out on some remote island; He was bringing back hashish from Mauritius which is a neighboring island just south of the Seychelles. We were buying pounds of pot from a guy named Guido...That was in '72; It was probably about $200 - $300 a pound. It was good bud. And we'd run out of that so we'd have to start smokin' hash for weeks at a time but, Gawd! It was very creative. I liked smokin' the hash and writin' but it got old. In Korea you could give $10 to a prostitute and say, "Bring me some pot and there's another ten dollars in it." I remember handin' a ten dollar bill to a girl in Korea and tellin' her to get me some pot; She brought back a grocery bag FULL of pot.
In the Philippines, you can get shot for possession but we managed to get some there, too. It was everywhere. I mean, it was the "Far East." Anything you wanted - during that time - If you had the money, you could get it; Especially pot.
Chris: So now you're back in Lubbock.
Paul: Yea. Anxious to see whether or not this poetry thing can move me along. I'd like to think that there'll be other responses. I was encouraged by several people from Taos competition; during the competition at Taos I was invited to come back as a featured artist in the 1999 competition. "Featured Artist" means that they put you up in a motel and they pay for your food. They may pay a little money; not much.
There was a group from Crested Butte, Colorado, that said, "We'd like to have you come out and do a show." So that's really why I'm here; If there is anybody out there that's looking for somethin' different, I'd love to go do my thing. I'd love be a "featured guest" at the next Nationals. I'd rather do that than compete in The Poetry Slam.
Chris: I think your material is something that's more "audience interactive," as opposed to just "exposing one's self." And it's entertaining, y'know.
Paul: Have you ever heard "orgasm" mentioned so many times in one hour by so many different people? Or nipples?
Chris: It's what's on people's mind, I guess.
Paul: Now that it's over, I'm gonna' get high. [Lights a "one-hitter" he has brought with him]…Tomorrow night might be different. There's three different "poetry bouts" at six different places...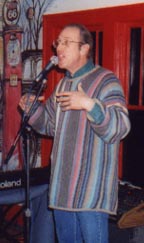 I'm a pot-head and I admit it. I feel like it's almost a destiny for me to go out and shake people up and say, y'know, "It's time to start standing up for your right." I have children who are subject to the same penalties that I am. They're subject to go to jail if they get caught with any marijuana. So I'm not only speaking out for my right to smoke it, to have my name cleaned as a criminal...Because for the past 60 years anybody that has dealt in it has been a criminal, according to our laws. These are peace-abiding, loving people who are "criminals." Felonious!
Walter Cronkite's even said, "Bullshit."
I've been on radio. I've talked on radio programs about it. I get on stage and say my stuff. I have almost relinquished the opportunity to make a choice, and now I feel like there's very little choice for me to make. I have to go do this.
I get angry when I see some newscaster act as though, "Oh, we found eighty pounds of pot in a car that we pulled over 'cause the registration was bad or the guy didn't have his seat-belt on. We've kept another eighty pounds off the streets of Lubbock." Well, this reporter is some bitch who was snortin' cocaine at a goddamn party last week! It's horseshit!
Chris: The whole history of the illegalization of marijuana has just been big lies, propagandas and lies. Every one who does it regularly knows...That it's just a lie.
Paul: It's bullshit!
Chris: I just think that the Coca-Cola people must laugh their asses off at the war on drugs; They're the biggest drug dealers in the world, and they are revered the world over as "making everybody happy!"
Paul: There are deaths every year in this country from over-doses of caffeine; heart palpitations, stuff like that. Coke just tears you up!
That's the thing; This country was founded on drugs and drug use - Rum, Sugar, & Tobacco. The hypocrisy just didn't start yesterday. It's been around for a long time. And I'm sick of it!
I'm sick of being a 46 year old criminal who's done nothing wrong to anybody! I don't understand it. And I'm tired of the fact that every 49 seconds in the United States there's a marijuana bust at a cost of over $800,000 an hour! Every hour of every day; We're payin' for this!
We're puttin' up prisons like crazy! I have an opportunity to bid on some work in a prison, and I almost feel like I'm going against my religion! It's almost like, "This is where they're puttin' people that I sympathize with, not people that I feel hard feelings about."
-end of interview-

---
Comment:
Obviously, by the end of the interview, the conversation shifted from the precise topics of Lubbock and creativity. But we really were never off-point too far. Paul's poetry, like the music of his friend Cary Swinney - and that of all the artists considered in this study of Lubbock-born creativity - stems greatly from the roots of rebellion, a reaction to the reactionaries pervasive is the Lubbock, West Texas community.
And these guys are not naturally "trouble-makers." They are moral, good spirited, intelligent, socially-conscious people. They are sensitive people. And that sensitivity is most likely the source of their discontent with some of the pharisaic tendency among some influential citizens in Lubbock; judgment and condemnation of those not fitting the bill of the clean-cut, hard-working, "regular-Joe" white guy citizen; the "reasonably prudent man" we hear so much about.
As Paul indicated, he now feels he is compelled to speak out for his very life and for that of his children; that his opinions and choices and dreams and roll in the community are just as valid as anyone else's.
If you read our interviews with Joe Ely, Terry Allen, Don Caldwell - and all the rest - One common theme each expresses is a driving urge to express themselves in his or her own manner, not in some way prescribed to them by some invisible hand. And not a single one of them would advocate "free-will, no matter what the costs."
Note, the other common theme they share is their insistence that everything good about themselves, their own personal morality, honesty, work-ethic, loyalty, courage; all those come from the community of Lubbock, Texas.
These are "Good" people. These are "True Americans" in the best sense; They are great examples of that uniquely American theory that if an individual is allowed to pursue his or her deepest desires without undue tyranny, the world as a whole will benefit.
We all have something in life to give. Growing up in Lubbock, you learn this lesson on both sides of the street: the church and the honky-tonk.
I believe these factor are among the major ones contributing to Lubbock's creative fertility. It seems West Texas forces one to make a choice: Sanctimony or Rebellion. On the Llano Estacado, there is very little tolerance for any luke-warm in-betweenness.
---
Do you like the interviews you have been reading on virtualubbock.com?
Buy the book by author Christopher Oglesby
Fire in the Water, Earth in the Air:
Legends of West Texas Music

"As a whole, the interviews create a portrait not only of Lubbock's musicians and artists, but also of the musical community that has sustained them, including venues such as the legendary Cotton Club and the original Stubb's Barbecue. This kaleidoscopic portrait of the West Texas music scene gets to the heart of what it takes to create art in an isolated, often inhospitable environment. As Oglesby says, "Necessity is the mother of creation. Lubbock needed beauty, poetry, humor, and it needed to get up and shake its communal ass a bit or go mad from loneliness and boredom; so Lubbock created the amazing likes of Jimmie Dale Gilmore, Butch Hancock, Terry Allen, and Joe Ely." - University of Texas Press