Lubbock Avalanche Journal
[Wednesday p.m., March 25, 1970]
POLICE NICE, THOUGH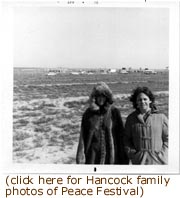 Wind 'Blows Mind'
For Rock Devotees
By W. EUGENE W. SMITH
Avalanche Journal Staff
The police have been kind and the natives distant so far, but Old Mother Nature welcomed 1970's first "rock music festival" in a good old fashioned unkind West Texas way today - with blowing dirt.
The vanguard of expected tens of thousands of young music devotees huddled around campfires and in cars on the Floyd Reynolds property southeast of Woodrow.
Their faces grimy from the dust, stringy hair of male and female alike whipped by the wind, the youngsters, most of them from West Texas so far, awaited the Thursday morning opening of the three-day event.
The curious were far more plentiful than the involved, as Farm to Market Road 41, running adjacent to the festival site's north side, was crowded with slowly moving cars.
Texas Department of Public Safety (DPS) patrolmen were observed issuing two traffic citations, both to very ordinary looking West Texans.
"We opened up our tent last night ," ventured one long-haired youth, "and it just inflated and blew away."
A wind clocked by the Lubbock Weather Bureau at more than 40 miles per hour whipped winter-plowed cotton fields and over the site, and the passage of hundreds of car tires and highway department machinery working on roads in the area added to the dirt.
Tents Dot Area
Tents dotted the former farmland, and some of the youths helped with building concession stands and other makeshift structures needed for the festival.
The music is set to begin blaring at 10:00 a.m. Thursday.
The early arrivals, exhibiting license plates from such places as Dallas, Midland, Kansas, North Dakota, Florida, and Mississippi, said they expected no trouble. Some ventured that the DPS patrolmen, 235 of which are being brought in especially for the event, are "nice cats."
Those expecting trouble said they feel it will come from local residents if it comes.
"Everyone seems to think we should be standing by the door with a gun," declared Mrs. Bernard Rogers, who, with her husband, runs the only business, a liquor store, within walking distance.
"The ones that have come in here so far have been very polite and nice," she said.
The Rogers' store is on the…
(remainder of article not available).
---
[Thursday a.m., March 26, 1970]
FACILITIES RUSHED
Rock 'Festival' Set For Debut Today
By JACK GOLDING
Avalanche Journal Staff
HUNDREDS of pop music lovers were pouring into the Lubbock area late Wednesday night as workmen rushed to complete facilities on a dusty, wind-swept field near Woodrow, site of West Texas' first rock music festival.
DPS Crews Busy
Except for the steady hum of busy work, there were no reported incidents connected with the festival Wednesday. The site is nine miles south of the Tahoka Traffic Circle and one mile east of U.S. 87 on Farm Road 41.
Spokesman for the Department of Public Safety, which has moved 235 men from across the state to help control the crowd, said the only hint of a problem Wednesday was the steady stream, of bumper-to-bumper traffic bypassing the cropland which is being converted to a tent city.
The DPS has established a command post just across Farm Road 41, and spent several hours Wednesday scanning the festival site from three helicopters and fixed-wing aircraft, spokesmen pointed out.
Law Lineup Set
Maj. Charles Bell of Lubbock, DPS regional commander, said 160 officers, including Texas Rangers, will be stationed in shifts on the festival grounds and the rest of the 235-man force will work with traffic, communications and other duties. Briefing sessions were held there Wednesday. The force included game management officers from the Texas Parks and Wildlife Department who were at the scene Wednesday. State narcotics officers also are on hand here.
The sheriff's office here has canceled all days off, chief sheriff's deputy Albert Smith said. Seven deputies will be...
See ROCK MUSIC page 15
Workmen Still Busy
Rock Music 'Festival'
Set for Debut Today
FROM PAGE ONE
assigned to the festival at all times and six other officers will patrol southern Lubbock Country.
Lubbock Police Chief J.T. Alley said 15 members of his force, including communications and identification officers, have been assigned to help at the affair.
A spokesman for Pinkerton's, Inc., a private security service, said it had reinforced its guard numbers at some Lubbock businesses. Additional personnel were summoned from throughout the state to beef up local security.
During the day Wednesday festival workers, without the aid of electrical service, constructed a foundation for a stage just off Farm Road 41, sank poles for a fence around the staging area and began moving in portable chemical toilets and concessions.
No Bathing Facilities
Brad Hardy, co-owner of Atlantis Productions, booking agency for the festival, said there will be 15 food and drink concessions, plus several others selling posters and clothing.
Hardy said the number of portable toilets on the site "depends on how many we get moved in there," but said he hopes to have 150 available.
There are no ponds or streams for bathing at the site, Hardy said, but a well pumping 400 gallons per minute will supply drinking water.
Medical Tent Set Up
Festival sponsors say they will have a medical tent manned by a Fort Worth physician who volunteered his services.
Dr. David M. Gowgill, director of Lubbock's City-County Health Unit, said four inspectors were at the location Wednesday checking water, food and sanitation facilities.
Bill Casey, president of Southwest Festivals, Wednesday predicted attendance of 25,000 to 30,000 daily.
Eight Bands on Slate
Producer Toby Roberts still is working on the schedule but today's performers tentatively include Freddie King, Heaven and Earth, The Frock, Bloodrock, Frantic, Delaney and Bonnie and friends, Bangor Flying Circus and the Canned Heat.
He said gates will open at 1:30 p.m. and the show should start at 3 p.m., barring complications.
A Dickens County court injunction Monday banned the festival from a location near the county seat and the show was moved to Lubbock Tuesday, in an eleventh hour maneuvers.
By late Wednesday, only one isolated incident had been connected to the festival. Officers stopped a mini-skirted girl driving from Oklahoma City to the festival at 91 mph in a 70-mph zone. She pleaded guilty before Justice of the Peace F.H. Bolen and was fined $20.
Lawmen and Dist. Aty. Blair Cherry…
(remainder of article not available).
---
[Friday a.m., March 27, 1970 ("Good Friday")]
INADEQUATE POWER
'Festival' Delayed; Turnout Is Small
By JACK GOLDING
Avalanche Journal Staff
PLAGUED by power failures, blowing dust and biting winds, promoters of the Southwest '70 rock festival canceled the first day's performances on Thursday.
The production had been geared for a 3 p.m. opening but five hours later, when only car lights and flickering campfires illuminated the 160-acre site, promoters said trouble with portable table generators had forced them to postpone the show until noon today.
Crowd Estimates Vary
The announcement sent hundreds in the audience, estimated by the Texas Department of Public Safety at 2,300, and by promoters at 5,000, scurrying off the site, located nine miles south of the Tahoka Traffic Circle and one mile east of U.S. 87 on Farm Road 41.
The mass exodus caused traffic, swelled by carloads of the curious, to slow to a snail's pace on the winding farm road. A newsman covering the show said he watched the stream of vehicles leaving the gates and said cars "were bumper to bumper and they were four or five fuzzy heads in every one of them."
Continues Through Sunday
Festival officials said the show, originally scheduled to end Saturday night, would now continue through Easter Sunday and Thursday's ticket stubs would be honored.
The crowd, a far cry from the "25,000 to 30,000" sponsors had predicted daily, had paid $5 each Thursday to brave blinding dust carried by cold winds gusting to 26 miles per hour.
Brenda Rowe, 18, blonde and...
See FESTIVAL page 10
"OPENER' PLAGUED BY PROBLEMS
Festival Turnout Small Here
FROM PAGE ONE
wrapped in a blanket, appeared at a DPS facility at midafternoon Thursday and said she was "miserable, cold, dusty, and I want to get back home to Clovis as fast as I can." She said she had driven to the festival with friends but they had been separated.
Jeff Nichols, 20, who said he was a Vietnam veteran and recipient of the Purple Heart, showed up in the windswept barley field and told reporters he had hitchhiked from Garden Grove, Calif., where he had worked as a census taker until Tuesday.
Nichols stayed at the scene awhile, then hitchhiked back to Lubbock to "catch a flick, see what the town's made of and find me a place to sleep."
The Floyd L. Reynolds farm, scene of West Texas' first rock festival, was almost without incident Thursday. There were unconfirmed reports of one youth who got high on drugs and fell into a fire. At least two youths, called "freaks" by their cohorts, collapsed on the grounds Thursday, possibly victims of "bad trips."
Reporters watched as a youth about 20 fell to the ground, kicking and yelling "No, No, No, No." He appeared unconscious several minutes, before comrades whisked him away to a blanket unfolded against a terrace.
Six Persons Jailed
Tom Richards, an assistant district attorney, said he watched a similar incident. Richards aid a youth collapsed and another took a syringe from him and ran.
Lubbock deputy Jim Neal said a 16-year old girl who went to the festival with her brother was sent to Reese AFB Hospital shortly after midnight Wednesday to undergo treatment for a drug injection. The deputy said a physician diagnosed the drug as a diet pill diluted with water.
Many of those at the site apparently decided to go to Mackenzie State Park, to motels or with friends in Lubbock to spend the night and traffic was bumper to bumper for a time on the Tahoka highway, both going and coming.
At dusk, the Department of Public Safety reported making 21 routine traffic arrests, apprehending five minors who were drinking and one youth charged with contributing to the delinquency of a minor.
The ranks of officers policing the festival site swelled to 357 Thursday.
Maj. Charles W. Bell, DPS regional commander, said a state police force of 323 men had been moved in from the four corners of Texas. Bell said 160 uniformed patrolmen were policing the festival grounds, 73 were on road and highway patrol, and that 60 plain clothes officers, including Texas Rangers, undercover narcotics agents and intelligence experts were on duty.
Asked if he had any estimates on how much it costs the state to police such an event, Maj. Bell said the cost would be "monumental."
Lubbock police beefed up their forces to handle the influx into the Hub City late Thursday.
A spot check of license plates at the festival Thursday indicated many states represented, including New York, New Jersey, Nebraska, Wisconsin, New Mexico, Colorado, Louisiana and others.
The close dragnet of law enforcement units laid around the festival appeared to be protecting adjoining farm lands from vehicle ruts and tramping feet.
[lacuna]…(makeshift tent-)town on the Reynolds farm spent much of Thursday scrounging for firewood. The searches usually yielded a scant piece of tree limb or a few cotton stalks.
They sought shelter inside flapping tents or blankets while a handful of others waited around a stage amid the taping of hammers as a crew fought high winds to put up light poles and sound equipment.
Huddled groups of teeth chattering festival attendants tried to start fires to keep warm after they were told to "come back tomorrow."
Where it was intended that psychedelic lights would be played over the scene Thursday night, only the flickering lights of small campfires pierced the night.
* * *
Festival Arrests Varied, DPS Says
The Department of Public Safety reported 33 arrests and 44 traffic violations connected with the rock music festival south of here at a late hour Thursday, including four for possession of marijuana. The total included arrests made from 5 p.m. Wednesday to 11 p.m. Thursday.
No charges had been filed in the marijuana cases late Thursday, but officers said the four suspects had been apprehended in a pickup truck parked near the festival.
The arrests also included an assortment of misdemeanor charges, including contributing to the delinquency of a minor, minors in violation of Texas liquor laws, driving while intoxicated, carrying a prohibited weapons and the 44 routine traffic violations charges, authorities reported.
Lubbock police said they had reports of 71 runaways from at least three dozen Texas towns. Officers here were asked to locate the youths at the festival.
[end of article]
---
[Saturday a.m., March 28, 1970]
CONTINUES TODAY
Weather Low Blow
Cools Off Festival
By JACK GOLDING
Avalanche Journal Staff
THE SOUTHWEST '70 rock festival finally got underway Friday, but the trouble plagued show lost another round to a typical West Texas pre-Easter weather blow.
Heavy rain, cold winds, and a tornado alert routed a crowd of fans, estimated by the Department of Public Safety at 4,000.
The pre-Easter storm moving in from the north pushed through the 160-acre site about 7:15 p.m., forcing bands to chuck their guitars and the fans to seek shelter. A steady stream of cars and some hitchhikers headed toward Lubbock as rains and strong winds struck.
Dig In For Night
The crowd had braved dry, blustery winds and biting sand since Thursday to hear once-famous Barry McGuire, Dallas' Bloodrock and a couple of other local groups.
More hearty revelers dug in for the night in the soggy barley field while others scurried elsewhere.
Phil Brummett, a lawyer for festival promoters, squelched a rumor that the show had been cancelled at its spot 10 miles south of here on the Floyd L. Reynolds farm and moved to Mackenzie State Park in Lubbock.
Robert Gamble, a partner in Atlantis, Inc., booking agency for the ill-fated show, said the performances will be resumed today, weather permitting.
Festival "Success"
"Everything came together when the music started," said McGuire, 35, the only shorn entertainer who took the stage Friday. McGuire held his audience almost spellbound with "Green, Green," a hit he penned while he worked with the New Christy Minstrels in 1962.
McGuire's partner was red-haired Eric Hurd, former lead guitarist for the Mamas and Papas…
(remainder of article not available).
---
[Easter Sunday a.m., March 29, 1970]
42 Face Dope Counts
EASTER SERVICES ON TAP
Curtain Goes Down On Rock Music Festival
By TANNER LAINE
Avalanche Journal Staff
SUNDOWN today will mark the end of the trouble-plagued Southwest '70 Festival south of Lubbock, a rock music experiment that has taken just about everything the weather could throw at it.
Despite a numbing cold and wet grounds, Saturday's sunshine brought out the peak attendance at the four-day event - 3,500 at 7:30 p.m. by Dept. of Public Safety count.
Arrests jumped sharply Saturday afternoon with the larger crowd and the arrival of more ticket buyers, according to promoters.
Drug arrests, particularly for possession of marijuana, jumped sharply in a roundup Saturday afternoon. Traffic violations and other misdemeanor cases also increased, law enforcement officers said.
The show will go on today, according to Minor Pounds, Lubbock attorney for the festival promoters. Downbeat time, he said, would be 2:00 p.m. "We will close out the show about 6 p.m."
Name bands on stage
See FESTIVAL page 10
AND COSTLY
Festival Due Finale Near Here Today
FROM PAGE ONE
this afternoon will include "Bangor Flying Circus," "Truth," and "The Byrds."
Ill fortune plaguing the festival also struck a blow to the Campus Crusade for Christ team of 75 college and university students who planned an Easter sunrise service this morning.
Waylon Ward, CCFC director for West Texas, said a scheduled speaker for the sunrise service had to cancel out and so did a religious musical group.
However, an Easter service will be held at 10 a.m. today at the Campus Crusade for Christ tent, which is located in the camping area near the Red Cross first aid station. The public is invited, a CCFC spokesman said.
Then, in the afternoon, when the rock music rolls out, CCFC representatives wil have short spots for speakers or religious music.
The damp, cold ground and icy winds began to take a toll late Saturday afternoon. The Red Cross first aid station, which had treated 220 persons since Thursday morning, reported a sharp increase in colds and persons suffering influenza symptoms, and ARC representative said.
Saturday night was the first after-dark performance at the festival.
The night crowd had dwindled from the peak late afternoon attendance to an estimated 1,500 to 2,000.
* * *
(back to front page)
Agents Put 'Heat' on Marijuana
Majority of Suspects From Out Of City
By MIKE COX
Avalanche Journal Staff
MASS ARRESTS Saturday for drug violations at the Southwest '70 rock festival site crammed Lubbock County Jail and kept law officers working at an exhausting rate.
Late Saturday, 30 persons had been named in felony complaints alleging possession or sale of marijuana and at least 12 more persons were arrested for possession of "grass" but had not been charged at a late hour. Officers said more were expected.
Sets Records Here
Arrests for other offenses - drunkenness, minor in possession of alcoholic beverages, and carrying prohibited weapons - were made by the dozens.
According to officials, the arrests Saturday broke every arrest record for Lubbock County.
Most felony arrests in one day.
Most drug violations in one day.
Most people in county jail in one day.
164 In Jail
Late Saturday night, according to Chief Deputy Sheriff Albert Smith, 164 persons were in county jail and more were being booked. The maximum capacity for the jail, he said, is 316.
"I've been here 14 years and this is the largest figure I've ever seen," Smith said.
He said on an average day there are usually 110 persons in the jail at one time.
Others "Picked Up"
Saturday's count of 164 prisoners, however, does not represent the total number of persons booked during the day. Many were in jail only long enough for a bondsman to get them out.
Smith said over 120 arrests of varying types, including the dope crackdown, had been made between 8 a.m. Friday and 7 p.m. Saturday - all of those coming from the festival site or "the southern portion of Lubbock County."
City police "paddy wagons" were being used to shuttle those arrested from the site to the county jail. Sometimes as many as 14 persons were brought in at a time.
Those From Lubbock
The District Attorney's office opened shortly after 8 a.m. Saturday and filed a total of 32 complaints during the day, all but two of them stemming from the festival. (The other two were for murder with malice and driving while intoxicated, second offense.)
Tom Richards, an assistant district attorney, said no more complaints would be filed until Monday, however. The district ...
See NEW RECORDS page 10
DRUG ARRESTS
Officers Set New Record At Festival
attorney's office disclosed names of those charged.
Officials said the Saturday arrests were the result of undercover activities by state narcotics agents the first two days of the festival.
Three Lubbock residents were named in the felony complaints Saturday, all charged with possession of marijuana. They included: Deborah Acree, 19, of 308 Gates; Steve Carpenter, 19,of 4815 18th Street and Claire Cotter, 19, of 5222 17th Street.
Bond was set by Justice of the Peace Charles Smith at $1,000 each. Miss Cotter and Carpenter had posted bond late Saturday, officials said.
Others named in felony complaints charging possession of marijuana include:
[27 various names, ages ranging from ages 17 to 22, from locations across the U.S - from Portland, Maine to Riverside, California ]

[end of article]
---
[Monday a.m., March 30, 1970]
LIKE NORTHER, MAN
Rocky Music Fete Exits On Blue Note
By BOB BAKER
Avalanche Journal Staff
ABOUT 1,000 TIRED, windblown and discouraged young people scattered for their cars, obsolete buses, and broken-down trucks shortly after 5 p.m. Sunday as a steady rain moved in to put the lid on the Southwest '70 rock festival.
The mass exodus southeast of Lubbock was about 45 minutes ahead of schedule as weather once again took the upper hand over the 'hard rock' beat of festival performers. Sunday afternoon's climax of the three-day festival was right in line with what had gone before.
Chilly, windy weather which plagued the festival from its opening hours continued to hover over the terraced barley field throughout Sunday afternoon, and light rainfall that began about 5 p.m. finished off the few hundred spectators that remained faithful to the last.
Short Of Expectations
The Gathering, which promoters had hoped would draw as many as 100,000 spectators in three days, dwindled to about ,000 by mid-afternoon Sunday, making the total festival headcount something in the neighborhood of 13,000.
Festival promoters estimated the maximum Sunday afternoon crowd at 2,000 persons, but Department of Public Safety officers placed the figure at a more conservative 750. Newsmen counted a midafternoon crowd of about 1,000.
Although most of the $5-per-day spectators were disappointed to learn that top-name bands had cancelled appearances, music from lesser-known bands began to blare...
See ROCK page 6
ATTENDANCE SLIM
Rock Music Festival's End Hastened By Rain
FROM PAGE ONE
from the stage about noon Sunday.
Huddled under blankets, Army field jackets and bedrolls, the Easter Day spectators listened intently to the deafening roar until the surrounding clouds began to close in.
By 6 p.m., all exits from the site were clogged as more than 300 Department of Public Safety officers attempted to control the crowd and make last minute trips to Lubbock County Jail with offenders of various types.
Slick roads led to several minor traffic mishaps, but the army of law enforcement officers appeared to have the situation well under control.
Sunday afternoon's crowd was surprisingly quiet and apathetic, apparently suffering from the effects of freezing weather, blowing dust and moisture which marred the festival throughout the weekend.
Blames "Attitude"
A poll of about 30 spectators revealed varied opinions as to why the festival failed to draw the massive crowd anticipated by promoters.
"It's not the weather," said a young man from Taos, N.M. "it's the attitude of the people in West Texas that held down this festival - a repressive attitude toward anything young people want to do."
Another participant from New Orleans, who was holding his nine-month old daughter in his arms, blamed the activities of law enforcement personnel as the cause for slim crowds. "When word got out that they were arresting everybody for minor traffic violations, they stopped coming," he said. The young father said one of his friends had been arrested for attempting to open a can of beans with a Bowie knife.
The most rousing response from the Sunday afternoon crowd came about 4:15 p.m. with the performing band cut loose with "Jesus Is Just Alright." The band's emcee proclaimed that the tune was being played in observance of Easter Sunday and in honor of "The Byrds," one of the leading bands which cancelled a Saturday appearance due to inclement weather. "The Byrds" made the "rock spiritual" famous several months ago.
Lubbock Red Cross volunteers who manned a first aid station throughout the weekend said Sunday afternoon more than 200 spectators had been treated at the station, mostly for cold symptoms. Scores of the spectators spent Friday and Saturday nights around campfires as rain, snow flurries and dust made life miserable.
* * *
209 Jailed
624 Arrests Linked to Music Fete
By JACK GOLDING
Avalanche Journal Staff
As West Texas' first rock music festival left town on the heels of a spring storm Sunday, law officers put the heat on related crime suspects.
By dusk, 58 persons had been charged with either possessing or selling narcotics, mainly marijuana, since Saturday.
The Texas Department of Public Safety, which kept a count of incidents from 5 p.m. Wednesday through 6 p.m. Sunday, recorded a whopping total of 624 arrests related to the trouble-plagued music show.
209 In Jail
Traffic arrests numbered 502,, the DPS said, and there were 124 arrests on the festival grounds, a 160-acre portion of the Floyd L. Reynolds farm near Woodrow.
Albert Smith, Lubbock County's chief deputy, said 209 persons were in county jail Sunday morning and called it "the largest figure I've ever seen."
In felony complaints filed Sunday, 28 persons, including one Lubbock resident and a few others from the South Plains, were named in drug cases.
Accused Names
Charged with possession of marijuana were: [26 various names of persons between the ages of 17 and 30, from locations across Texas and the U.S.]
Only two were charged with selling narcotics. They were C.W. Bullard, 18, Amarillo, charged with selling mescaline; and Danny L. Howell, 17, Olton, charged with selling marijuana.
$1,000 Bonds Set
The complaints Sunday were filed before Justice of the Peace Wayne LeCroy who set bonds at $1,000 each for those charged with possession of marijuana and $2,500 each for the two charged with selling narcotics.
-End of article (?)-