Chris Oglesby Interviews
Trent Hunt
Chris' Home
Austin; 10/18/00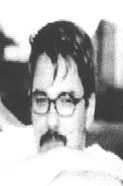 Trent Hunt is a third generation native Lubbockian, and - naturally - a skilled singer, songwriter, & band leader.
In the late '80s - early '90s, Trent lead Lubbock's most successful Alternative bands, including The Intentions and Squarehead. He's an accomplished songwriter, who - like so many before him - realized that he could not make a respectable living in Lubbock as a songwriter.
In 2000, like so many other talented Lubbock musicians have been forced to do, Trent moved his family to Austin in order to form a band and to make it as a professional musician. Trent currently is the leader of Something Johnson, an ecclectic South Austin Rock band; His wife Diane - also from Lubbock - plays bass for the band.
---


Chris: Squarehead was one of my favorite bands back when I was in college; you were in that band with some other friends of mine. Do you wanta start by telling about Squarehead?
Trent: The history behind Squarehead was; I had started a band called The Intentions with my best friend in high school Pat Rickey; He played bass. When we were in high school – the summer before we started this band – we'd just started going to Main Street Saloon and got turned on to listening to John Sprott and those guys play.
Main Street Saloon had a great "Open Jam." Eddie Beethoven & the Sons of Fun would come in and play; A bunch of really cool bands that nobody's ever heard of where playin' there. It was pretty much a little "All-Star Lubbock cast."
We would go and sit there and drink cheep beer, watch 'em do their stuff.
That summer we bought two guitars at Tarpley Music, and we went back into the back of my house and just started learning the chords.
Chris: Because you liked that scene and wanted to be involved in it?
Trent: Yea. We wanted to be up on stage doing that 'cause it looked so cool. We started learning Beatles tunes and Buddy Holly tunes. I really got into The Beatles at that time, so we started learning a lot of that. Eventually, we started a band just by saying, "Hey, we're gonna have a band."
We met another guy from Lubbock named Mark Fallas. I was at a wedding in Abilene and Mark happened to be there. I told him I was starting a band up and asked if he knew any drummers or bass players, and he said, "I'm a drummer." Come to find out, Mark hadn't played the drums in like 12 years. But he wanted to, so he said that he was a drummer; And he ended up being a pretty good drummer.
So we borrowed Pat's girlfriend's snare drum from marching band, and set it up in the living room. We went and bought a couple of little amps…plugged our guitars in and just played in the living room for a few months.
Eventually we met a guy at work named Danny Allen that played guitar. He was from near Borger somewhere.
We all were working at Payless Cashways hardware at the time and they were gonna do a Christmas party, so we booked the gig.
I think we wrote a couple of little songs but mostly it was cover stuff. We rented a sound system from Kyle Abernathy; he came and did sound for us. Pat started playing the bass because I couldn't play the bass rhythmically and sing at the same time. We played that gig and we all just fell in love with doing it.
So we started writing some songs and learning more stuff, booked a couple of gigs at Main Street and played a little bit…
Then somewhere during the deal, we all bought a house together and decided that was gonna be our practice room. We were gonna live together and pay the bills and play gigs and all that.
Chris: Where was the house?
Trent: It was on Avenue A and Fifty-something. It was a tick-infested hole. It was pretty bad.
Then the guitar player split 'cause his girlfriend was gonna leave him if he didn't quit the band.
So we met Rob McIntyre, which I don't know if you remember him: a great guitar player. He was about 4 or 5 years older than we were but he was just great. So he joined the band, and we continued to play as The Intentions for awhile.
And then I had my first child. Actually, Diane – who I eventually married – she was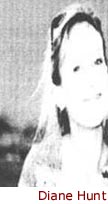 at that very first gig and became kind of our first "groupie." We ended up falling in love later.
We played with Ron for a period of time; wrote thirty or forty songs and recorded a little album. We played a lot of covers.
Chris: Where did you record the album?
Trent: Don Caldwell's studio. Lloyd Maines did some work on it, and Alan Crossland.
Trent: Then Diane and I had our first child, and the music really wasn't going the direction I wanted it to go. I was wanting to move to Austin and get a little bit more far reaching, do some traveling and stuff. Everybody had different priorities, and so the band pretty much dissolved at that point due to lack of interest and direction.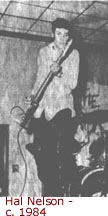 The drummer and I – Mark Fallas – started a three-piece band called The Love Drops with Hal Nelson. I don't know where we met Hal. I think we had seen him play with The Rude Boys. He was working with KAMC at the time, doing TV reporting. Mark somehow hooked up with him and he showed up over at my house. We hooked up in the garage and played a few songs.
Chris: He's younger than you. You didn't really know him in school?
Trent: Yea. He's couple of years younger'n me.
So…I'm not a very good guitar player. I just can't play leads; I'm just rhythm guitar oriented and I sing. We played songs of that caliber; If it had a lead in it, we omitted it; if it didn't have a lead we then definitely played it. We wrote a couple of songs but not really much. But we played a few gigs.
At that time "Alternative Music" – I guess what they called that at the time – had just started coming out. I mean, people in Lubbock then didn't really listen to Jane's Addiction or The Violent Femmes or anybody of that nature…or even the older stuff like The Velvet Underground. Anything that wasn't on the pop-charts, Lubbock people in general wouldn't really listen to it.
Chris: The first time I ever heard Jane's Addiction, Hal played the cover of the Grateful Dead song "Ripple" that they did. I was like, "Who the hell is that?"
Trent: Well, that's the kind of stuff we started playing. We were all listening to it.
Mark really listens to a lot of music, and Hal was in touch with John Fillipone - who was in Austin - who was on the edge of all that; He was listening to all that kind of stuff. He was sending us CDs and saying, "Hey, listen to this!" So we were a little ahead of the curve in Lubbock.
Chris: Yea. 'Cause music was kind of crappy right then. I mean, Rock-n-Roll had pretty much died by that point.
Trent: Yea, pretty much. It was pretty sorry.
Chris: When I was in high school, all we listened to was older stuff. There wasn't anything goin' on then [in the early '80s].
Trent: At the time – and still to this day, to a large degree – I listen to a lot of Beatles and a lot of stuff like that.
But we played as The Love Drops for a little while and had some pretty successful little gigs…
In fact…My wife bought me a Gibson Chet Atkins for my birthday; I mean, I paid for it eventually but she found it and purchased it. It was perfect for me; an acoustic guitar with an electric feel and look. This was about ten or eleven years ago.
I still have that guitar. I started playing that particular guitar probably for that feel. It's got a great feel to it.
But we played those gigs for awhile. And then Fillipone, who was about to start working on his thesis at UT, came home. He was doing a piece on West Texas music, in fact. So while Fillipone was home, we began to play together and ultimately became Squarehead.
We went through about 6 names, playing different gigs. We were The Velvetones; The Vivitones; The Fence Post Moderns…
Chris: I remember y'all were playing at Chelsea Street Pub a lot, and there were several shows where Kelly Weiss and Chris Barnes and Shane Weisberg and I were the only people there.
Trent: [Laughs] Yea! There were a lot of those. We had a blast.

Chris: And the band had a different name every time! [Laughs]
Trent: That was fun. We did that for awhile, then we started getting a little bit more serious, getting tight; and more original music starting coming out.
The big difference was…just to shoot off on a tangent…Back then in Lubbock, back in the day, you played a gig and you played the whole night; You started at 10:00 and you ended at 2:00. You filled the night, whether you filled it with breaks or covers or redoing songs or whatever.
A lot of the venues here [in Austin, today], you got an hour or forty-five minutes.
It's interesting because when we came here and I had begun to write again, I thought, "How long is it gonna take me to fill up four hours worth of music?" Because I'm not gonna rehash all the old stuff; I'm ready to move on to a new direction.
Chris: And then you realized that there's not so much a demand for that here?
Trent: Not as much. This very first gig that we're playing here in a couple of weeks, we're "It" so we have to play from eight 'til midnight; we've got about three hours. That's gonna be a little challenge filling all that time without playing any cover tunes.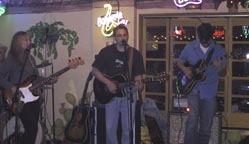 But for the most part, when I go hear live music here, they're "in and out". And we already have 25 to 30 new original tunes with this band so that's not gonna be a problem for us.
Chris: That's your band that you have now with your wife Diane. And that band is called…?
Trent: Something Johnson.

Chris: I'm looking forward to hearing it.
Trent: So anyway; We played - John and Mark and Hal and I – as Squarehead for three years.
Chris: There was a period there where y'all were pretty much "The Band" in Lubbock.
Trent: Yea. It's pretty amazing.
Chris: It wasn't a long run but it was a good one.
Trent: Yep. Long lines; Packed venues; Made pretty good money for a local band at the time. We just had a blast.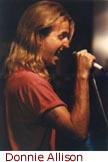 Chris: It was Donnie Allison, The Nelsons there for awhile That was right when I was getting old enough to get out. That was my first experience of really getting into a "live music thing" and really feeling that energy.
After The Nelsons broke up, there wasn't really anybody there for awhile until Squarehead.
Trent: There was Ground Zero. Darren Welch was so good on that guitar, so they always pulled a good crowd.
But yea, you're pretty much right. We were pretty much it there for awhile.
There were other little bands…Los Tornados were there for awhile…a little cover band.
Chris: They were good. What was the guy's name who was the head of that band?
Trent: Trini. He was the drummer. I can't remember the other…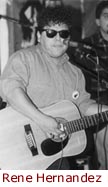 Chris: I think it was Rene.
Trent:: Yea, they were brothers.
Chris: Did you know Darren Welch when you were growing up?
Trent: He was my older brother's age or maybe a year younger. But my brother used to sneak me into Rox-Z.
I used to see Impeccable there. That was Donnie Allison singing and Darren Welch on the guitar. They did some "Zeppelin-like stuff." They were awesome.
Chris: So did that inspire you at all?
Trent: Somewhat. My brother was a musician.

Chris: I didn't realize that.
Trent: He was excellent. He never played in a band but he played the talent shows and stuff like that.

Chris: What's his name?
Trent: Todd Hunt. He's an excellent musician and songwriter, primarily for the piano. So I began to do that as well. I played talent shows and stuff like that when I was in junior high…on the piano.
Chris: So you were kinda chasing your big brother?
Trent: A lot of it was that.

Chris: Now, I know that your dad went to school at Tech. Are your folks both originally from Lubbock? So you're 2nd or 3rd generation Lubbock?
Trent: Yea. Third, at least.

Chris: Was your dad a musician? I mean, where did you get that?
Trent: No, they weren't. I mean, my dad can sing…He drives around in the car singing along with Sinatra and stuff like that. But we didn't listen to the radio much when we were kids, didn't have 8-tracks & records much. I was in choir.
We were raised in the Church of Christ, which is all a capella, all the time. So we learned to harmonize as brothers together. That was the biggest kick we got out of goin' to church was we could harmonize.
Chris: I've found that there are a lot of people in Lubbock with beautiful voices, because they go to the Church of Christ, and they're required to develop their voice as an instrument. That's something that was really noticeable growing up there. You could always tell the girls who went to the Church of Christ; they all had fantastic voices.
Trent: Your voice is a developable thing. There are people that are naturally good at it…But never had the need to develop that skill. That is something that people might not know about Lubbock.

The Church of Christ is very predominant in Lubbock. People cannot play instruments in that church because of theological reasons. So that's how we learned to sing together.
My borther Todd and I would sit at home at the piano doing Queen, doing duets, singing "Bohemian Rhapsody"…actually playing through the whole Queen album…and Pink Floyd...
Chris: I've been wanting to talk to somebody about this issue, actually - so let me ask you:
How did your folks feel about you getting into a Rock-n-Roll band and playing "Alternative" music? Particularly growing up in the Church of Christ?
As you said, you didn't really have a lot of music in your home growing up. What was your family's reaction to you being in a Rock band?
Trent: Well, I'll tell ya'…We were very conservative; The Church of Christ is ultra-conservative. We didn't have instruments or records or that kind of stuff.
But my mom forced us - in a nice way - to take piano lessons. Half the time I would skip 'em just because the lessons themselves bored us...
But I would play piano for hours upon end.
Chris: Why did your mom force you to take piano lessons? Was it just a "culture" thing? "You just need to have piano lessons;" or what?
Trent: Must've been. I don't know. I don't know why she did that. It was just something she wanted us to do. So we did it.
But instead of doing Mozart or "Green Onions" or whatever, we started learning Queen and Billy Joel and Elton John and anything that had a piano to it.
I think Mom got a lot of joy out of hearing us do that; So my parents enjoyed us playing together like that, not knowing - I don't think - what doors they had opened.
Chris: They just liked hearing their talented sons.
Trent: And we were fairly good at it. Whether we were playing "Heart & Soul" as a duet…We never had lessons on this but he would start at the bottom end and I would start at the top and by the end of the deal we were doing some really Ragtime stuff with some Rhythm & Blues stuff going. We just had some creativity there. And our parents loved that, so they encouraged it.
Of course, I was horrible at recitals. I never went to lessons.
My brother started writing songs and started listening to music. I remember in 1976 or '77, him taking me to a Kiss show in Lubbock when I was in 7th or 8th grade: Seeing my first "doobie," and seeing those throngs of people. I was on the front row. I've got pictures of that original Kiss band. I was on my brother's shoulders just shooting Gene Simmons and Ace Frehley in the face with my camera. He caught a Peter Criss drumstick, and I still have it in my drawer at home.
Chris: And that was a HUGE deal, Kiss coming to Lubbock. I still remember that; It just completely rocked Lubbock's world. It was like the end of the world; like the Devil himself came to town.
Trent: It's still a huge deal. That was the year that "Love Gun" came out.
I remember that drum solo starting and the drum risers rising up in the air; they rose 50 feet off the stage; It was awesome! But over the next couple of years I saw Nugent and Sammy Hagar and Boston…This was all in Lubbock. One of Van Halen's first shows ever was in Lubbock. I was at that one, too; Front row!
So we started listening to some bands that are obscure now, that were really ahead of their time. Do you remember Star Castle? A lot of keyboards, really great music. Started listening to Yes back then, which none of our friends ever wanted to listen to. We listened to a lot of Pink Floyd…my brother and me. Of course I'm just in 7th grade at this time, so this is where my training is coming from: I'm listening to all this music that is very artistic.
Chris: Getting back to that…What did your folks think about your brother taking you out to these concerts? Did they know what was going on? I know there was a huge fear of Kiss and Heavy Metal in Lubbock.
Fear of "Satanism" is big in Lubbock.
Trent: They trusted us. My parents grew up in a time when that wasn't relevant or prevalent; It just didn't happen. We grew up in a time when I would get out of school in 3rd grade and ride my bike three miles to my friend's house and play all sorts of rough games and do whatever honest boy fun. And then realize it's startin' to get dark and ride underneath Loop 289 and right across all those neighborhoods…No questions asked. But things have just changed, telescoped. It's gotten a lot more "evil," quickly. I don't think they thought much about it then…
I mean, I would sit down and draw Kiss pictures. It was just imagination. They didn't think there was anything to worry about; They had never seen anything like that before.
We were let free to do whatever we wanted, as far as what we listened to…And I guess that's when we got "the bug."
Chris: So later on, you're out of school and in college, were they still encouraging your music?
Trent: No; Not encouraging it - But not discouraging it, either.
To this day, if I was making six figures and living on a hill and had them up every Christmas and we had nice cars and a R.V. and every thing was great, they'd be proud as hell. At the same time, they're real proud of the way we're livin' our life now and raising our kids and what we're doing. They're real excited that we're doing music again. They're real supportive and I guess they always have been. But right at that time, I guess on the cusp of when I was deciding, "Am I gonna be in an artist's frame of mind, or am I gonna go business?"…My "Rebellion" - which it takes; that Rebellion - Since I had never left Lubbock, I had to rebel in some way.
I just broke ties, for the most part.
I still went and saw them and called them occasionally - But I had my own wife, my own job, my own vehicle, my own problems and didn't cast 'em off on them…Didn't want to.
In Lubbock, everybody wants "to break out." But you do have a lot of mothers working with daughters or sons working with fathers. There's a lot of that going on. My brother and I both tried that but we were just cut to do different things.
So when I actually began to play in a band and live that "night-life" kind of lifestyle - 'cause you don't work 8 to 5 and go home and watch football; Being in a band requires a different attitude, a little bit of irresponsibility and freedom with the nightlife - I just did it; I just did my thing.
Chris: Did you adopt that "irresponsible Rock-n-Roll freedom" atitude because you thought it was part of being the musician or is that what you wanted to do? Did you want to be a rebel?
Trent: It wasn't really a rebellion thing. It's a lot funner for me to play a gig - or to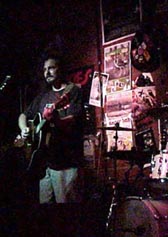 see music - at night; in-doors, in a smoky club, after hours, have some beers, people smoking cigarettes, music's kind of loud…It hits those senses and brings out a certain feeling…Whereas, any times I've ever played out-doors, particularly in the afternoon, it was a real "forced" gig and tough to do. We're in the sun, there's no lights, no smoke, there was some people out there but…But I like that feeling of "people everywhere around you"…You know what I'm saying? It's almost stifling but I like that. I like that closed-in, little ol' small venues, smoky room, light shining through the haze. Smell the smells, see the people's faces and all that.
Chris: Well, if there is a "Lubbock Music," it is almost entirely coming from that type of environment - as opposed to manufacturing something for mass production. It all seems to come from that kind of "group experience," where you're all doing something exciting together in some small bar or club, stimulating your senses.
Trent: Intimacy. There is an intimacy that…Even when we are rehearsing, the most productive and enjoyable practices for me are at night; We've all put in a good days work; We're unwinding; The kids are in bed; We're out in the studio, got a couple of beers. The guitar player is smoking, we're in a little garage with carpet covering the walls up…
Go to page 2
-continued-