Chris Oglesby Interviews
Jo Carol Pierce & Guy Juke
Austin; August 31, 2000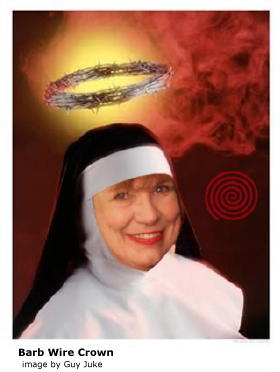 When I first contacted singer-songwriter-playwright Jo Carol Pierce it did not surprise me that she was busy working on a screenplay for a motion picture about the Jacksborough Highway, Fort Worth's infamous strip of gangster controlled honky-tonks, bootleggers & whore houses.
Like many of the other members of the long-renowned "Lubbock Mafia" - a tight circle of musicians and artists including Pierce, Joe & Sharon Ely, Jimmie Gilmore, Jesse "Guitar" Taylor, Tommy & Charlene Hancock, Butch Hancock, Terry & Jo Harvey Allen, Lloyd Maines, etc. -
Jo Carol's talents are not limited to songwriting. Most notably, she wrote and starred in a musical performance piece called Bad Girls Upset by the Truth. She also collaborated and performed in Chippy, the musical play about a West Texas hooker during the dust-bowl days and her observations concerning life, death, morality & sin.

"Bad Girls..." is a somewhat autobiographical fanatasy that takes place in Lubbock and the worlds of dreams and arcane biblical & mythological symbols. In short, it's the story of a young West Texas woman who has a spiritual revelation that because all boys are merely one aspect of the completenes that is Jesus, in order to know Jesus more fully she sets out to experience every one of those boys. With the help of the Blessed Virgin Mary - which suprises the heroine, because she grew up Baptists and they don't even beleive in the the B.V.M. - Jo Carol reveals why bad girls are justifiably upset by the truth and must commit suicide every morning first thing to start each new day. She also manages to give birth to the next-coming of little baby Jesus, who happens to be a little girl.

Jo Carol Pierce is married to Austin graphic artist Guy Juke, who is also known

as musician & performance artist Blackie White. The week Pierce & Juke agreed to meet with me, they were preparing for a birthday celebration/art show for Juke at South Austin's Jovita's.
They asked me to go to dinner with them at Threadgill's, where Blackie White was going to do an on-air promotion for his show on Austin Music Network. After meeting at their South Austin home, we braved the pernicious Austin traffic and headed north to Threadgill's.
While Juke did his on-air promotion, Jo Carol and I began our talk about Lubbock over some peach cobbler & pecan pie. Jo Carol commented to me how she liked my "Lubbock accent."
I agreed with her that there is, indeed, a uniquely Lubbock accent.
For example, Jo Carol told me the following piece of arcana: By analyzing letters written to police, investigating linguists determined the notorious Zodiac Killer in northern California most likely had lived for some time in Lubbock County due to the fact that he repeated use of a particular word (she remembered it to be "Fiddle-fuck") which apparently is used almost exclusively in Lubbock.
It didn't surprise either of us that one of America's most prolific and successful psycho-killers might be from our hometown. Jo Carol took that opportunity to begin our discussion about Lubbock by speaking of our colorful language skills.
---

Chris: So do you wanta start by talking about that "Lubbock accent" you mentioned?

JCP: Yea. And I don't know what to say about it except that I can just recognize it, like that. There's a sweetness there or something in the way, especially, the women talk…but the men, too…There's a sweetness in their "Oh, alright!" It's like they have a sweetness to their talk that I don't find anywhere else.

I think one thing that influenced all the writers out there is - especially when I was growing up more than when you were growing up, I'm afraid - but it was a town where there wasn't anything to do.
And one of the main social events was church, which I hardly ever went to except when I was made…

Chris: It's still pretty much like that. [Laughs].

JCP: Yea. But the whole place was just over-shadowed by that one book, The Bible. That's beautiful language. I mean it was like we were all influenced by it.

Whether we wanted to or not, whether we went to church or not, we were all influenced by this really beautiful, long and violent poem with beautiful language in it. It was a little bit old-fashioned language.

And I noticed that people from Lubbock talk like that; Words like "beholden." You know, only around Lubbock…But it took me a long time to be out of Lubbock to realize that people don't talk the way that I grew up talkin', or that we all did.

Chris: I was reading an article about you today, before I came over here, and the opening sentence was a quote from you. Something about how, "I've known Jimmie Gilmore since before he was shorter'n me."

JCP: Yea. [Laughs]

Chris: And just the way the rhythm of that was written out, you could read that that was somebody from Lubbock. There are some verb tenses in Lubbock that just don't exixt anywhere else.

JCP: I think that maybe one characteristic of Lubbock that I've observed, is slow-growin' guys. A lot of the guys that I knew really didn't get their height 'til way after they got out of high school. Like Jimmie, I think he was 5'6" or something like that. I remember several other guys that were just, y'know, small, and then when they got out of high school they shot up.

Chris: I wonder what that has do to with anything?

JCP: I don't know what that is. I mean, there are a lot of 'late-bloomers' in Lubbock. I was a late-bloomer. I think part of mine was I didn't want to grow up to be any of the things I saw around me. I would rather be a child than grow into that sort of life. Of course, I had a mother who said things like, "You'll die…You really can't survive unless you get married." And in the same breath say, "Marriage is no way for a woman to live." So I mean, I was kinda stuck in the threshold there for a good many years, still playing kick-the-can when my friends were dating and sun-tanning their boyfriends' initials on their back and stuff like that. It was hard. [Giggles].

Chris: I know what you're saying. I think I felt the same way. I still feel very child-like.

JCP: I do too. Uncertain. Rather uncertain.

Chris: I wonder what I would do if I went back to Lubbock. I don't know what I would do.

JCP: How would that be? Yea.

I know there were lots of real fascinating people back there, 'cause I met a lot of fascinating people when I lived there growing up.

And one of the best things about Lubbock was just the friends…y'know, the set of friends, and the loyalty. I mean, we were held together by people like Sharon Ely who was the hostess for the whole group and made sure that we were all together all of the time.

Chris: Now this was from high school?

JCP: Umhmm. From high school and after high school. But there were lots of real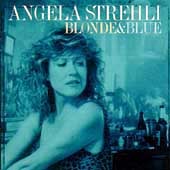 magic people like Al Strehli and Angela Strehli. I remember one time we were at a party over at somebody's house, some little bitty house that was just stuffed with people, and it was out in the backyard and it was really hot and everything. And Al Strehli came through that party and all of a sudden it just caught fire somehow; things started happening. We ended up doing this protest against the National Guard who was having a show that day. This little jug band I was in played at it extemporaneously. It was just a real exciting thing. But I swear, if Al Strehli hadn't walked through that party then none of that woulda happened. So, I don't know what it is.
Chris: Yea. I heard Tommy Hancock say just the other day that the only thing he likes about Lubbock is the people. [Laughs]
JCP: Me too. [Coughs repeatedly] Excuse me; makes me choke on the sand just to think about it.
I don't even think Lubbock is as ugly as I remember. 'Cause when I go back there, I always really kinda like it, after I've been there for awhile.
But my first reaction is just "Anger," just like I felt back then, livin' there…Just anger at feeling so out of place in a place, or something…So alone…Even though I had these friends. But we were all just clinging together. I mean, that's what made the friendships so strong was because it was like living in some alien place. And yet we grew up there.
Chris: Yea. That loneliness is something that I can really identify with…I constantly felt that's what compelled me to go out and do things, and stir things up. Because I couldn't just, for some reason, stay at home. I've been having this conversation a lot lately. But it's interesting that you're bringing up a lot of the things I've been thinking about.
JCP: Good. Well, the loneliness…just on those really geometric spaces…Lettered

and numbered streets…and the churches on every third corner and all that stuff…I mean, I could have an epileptic fit because of that. We have a friend who is an epileptic and a safecracker…
Chris: And a safecracker?
JCP: Yea. He went to locksmith school, not for the usual reasons but…He's epileptic, and he said that things would start in a pattern...That when he would start to have a seizure - like the checkered floor would start moving like the ocean and all the patterns of things…
And I can really see that in Lubbock because it's so patterned, it's inescapable. It was like, "Where can you be there?"
So we were all off in alleys and garage apartments and stuff like that.
We used to go, for fun, just go knock on people's door and run, and then peak and see just who they were…who would come to the door.
Chris: Yea. "Who is that? There's gotta be somebody in there." And I don't know if that's just my own personality but it did seem like that the only thing that's there are the houses and buildings…and the fences.
JCP: I remember when they first put in the fences, 'cause there was a time when all the kids just ran in a herd when I was in school, one unbound herd. And then they put in the fences, real stylish fences that looked like California fences, like rough wood sort of fences.
All of a sudden there were all these fences and you couldn't move secretly behind the houses anymore. Then some places started not having alleys, and we were really up a creek then.
Always, life in Lubbock depended on being in some sort of hidden place. And at night, we could be out because that was ours, but in the daytime it was not a friendly place to be. We used to call ourselves "The Alley Society" because we all lived in alleys in those little garage apartments.
Chris: Oh yea? Who was the Alley Society?
JCP: Well, Jimmie and Butch and Joe - although he was a little younger and he came after - and Sharon, and some people that are still part of the Lubbock crowd but who aren't musicians like Bob Elkins who's a cinematographer, and people like that, who I still know…Tony Pearson who was a really talented musician. Just everybody that we hung out with. Everybody lived in an alley.
Chris: I lived in an alley when I lived there.
JCP: You did? They had all those great alley places. We would move every time the house got dirty 'cause you could get another $35 a month, furnished, bills-paid garage apartment. So, why not?
Chris: Good times…[Laughs]…I guess. [Laughs].
JCP: Another thing about then, though, is that there wasn't any vision of what life could be or anything that was acceptable, I think…To me…or I think to most of those people.
Like be a drill-press operator? Or run a beauty shop? All that stuff just seemed so dreary! But I bought into it. I took a little "interest & ability test" and it said:
Number one - Musician
Number Two - Writer
Number Three - Psychiatrist
And I thought, "Oh! I gotta go be a psychiatrist?"
Chris: So you didn't become a psychiatrist?
JCP: I got a degree in psychology.
Chris: Oh you did? Where did you get your degree?
JCP: Tech. It was just easy. I was in pre-med and I had a baby; I thought she was much more interesting than chemistry.
But it was just hard to conceive of life down the road, anything I wanted to do, from Lubbock. And then I got out of Lubbock and it was easier to think about other things, to think about doing more what I wanted.
Chris: Was that when you went to California?
JCP: We went to California in '64 with a five month old baby and $60 and an old Rambler…
Chris: You went with your then husband Jimmie [Gilmore]?
JCP: Jimmie, yea. Then we came back 'cause life was hard out there. We stayed out there awhile, and it was real interesting, y'know; coffeehouses on the beach and stuff like that…We were in Watts part of the time. Then we were in this other place close to Echo Park. And we'd go down and play in Venice; Jimmie would play in Venice.
Chris: Would you play with him?
JCP: No, nuhnhuh. I mean, I didn't ever play music with Jimmie or anything…
I didn't start playing music in public until I was forty-seven years old, or something like that. But I had always written songs. They just weren't real good.
I guess I wasn't real serious. I'd write one when it came to me, but I didn't start writing real seriously until I was more in my forties. There were a few before.
Chris: So when you were in California with Jimmie, you were just pretty much being a wife and mother?
JCP: Yea. I was supporting him…the family.
I think the girls, in general kind of married the people that they wanted to be and tried to satisfy their needs through that. Of course, that doesn't work.
Chris: You mean Jo Harvey and Sharon…Or just girls in general there?
JCP: I think there were lots of creative girls there that really didn't express it, and instead we just married musicians and artists to express it that way, which is not a real satisfying thing. But then most of us grew up…y'know, "grow up": I'm saying like "Be 40."
By 40, I was kinda more grown…Most of the girls grew up and started doing something with their talents.
Chris: Do you wanta talk about your friendships and relationships with that group of people? I think everyone who knows anything about any of those musicians is familiar with that whole phenomenon where you were saying how that group of people stayed together so tight. And there's people my own age that we do the same thing.
JCP: Oh really? That's good.
Chris: Yea. Friends in L.A. and all over…We've stayed real close.
JCP: Through different cities…Yea. The first thing we'd always do when we went anywhere was get ahold of the Lubbock people that were livin' there.
Chris: Yea. It's still that way.
JCP: Isn't that neat, that that's continued? Do you still find Lubbock oppressive?
Chris: Do I find it oppressive? [Pause] Um…See, I went to college there and got my graduate degree there. I really was very much determined to go out and kinda grab as much as I possibly could.
I do find it oppressive. I did not feel particularly oppressed myself.
JCP: You didn't feel like you just had to explode out of there or you were gonna die?
Chris: Well…[Laughs] A lot of times I did. Yea. And I always thought that I was gonna go away somewhere else, y'know. But things always continuously happened to keep me there. It was very strange.
I made the most out of Lubbock. I liked it. But, yes, when I finally did move away, it was…I mean it was a psychological decision. It was like, "I can't really live like this. I can't continue to function the way I am, here."
I really like it. I think I fit in pretty well there; I can. But there's a lot of different stratas there.
JCP: Well, if you fit in there, it's a different place than when we were growing up.
Chris: Yea, it is. It's easier now. But I'm the type of person where I sort of found a certain amount of joy in just spiting all of that. So when you say "oppressive," I guess that sounds like…
I did have that "prison feeling," because you really are stuck there. You can't really easily just go somewhere else if you're in Lubbock.
JCP: Although now there's the Web. And there's TV. When I was going to school, there was a lot of local TV, and it was very interesting to think back on it. It was a very rural kinda place then.
Chris: But the TV and the Internet thing, I think that that's not as good; Because there's something about being in that really crazy isolated place of Lubbock…that I do really feel like I wouldn't have had that same feeling if I'd grown up somewhere in southern California or something like that.
And I don't think I would have been as self-confident as I am, had I not grown up in Lubbock.
JCP: Oh, really? I don't think I would have been as uncertain as I am if I hadn't grown up in Lubbock. [Giggles]
Chris: Right. Well, I think part of that may be a male/female thing…But I don't think it's changed that much.
JCP: Well, they passed a leash law for cats. I thought that that was ole-timey Lubbock. I really wanta go back there and see people walking their cats with leashes down the street.
Chris: And there's stuff like I saw an article in the Lubbock paper that whoever it is that does these things, the Comptroller or whatever, has determined that Lubbock County has four times the statewide average in violations of cigarettes sales to minors.
JCP: [Laughs] I believe that. It used to have the largest number of Trans Ams in the United States.
Chris: That doesn't surprise me. [Pause] Yea, I find it oppressive in a lot of ways. But like I said, we were talking about how one of the first things that Sharon Ely ever said to me when I first met her- and I'm sure that she doesn't even remember saying it - is that Lubbock's a lot easier to like if you know you don't have to stay there…like if you're just going there to visit.
JCP: Isn't that the truth? Yea, I like to kind of explore it.
Chris: Something fun always happens every time I go there.
JCP: Really?
Chris: Oh, yea. Something monumentally fun always happens. I end up staying up all night long.
JCP: Oh, good. I haven't been there in a long time. I've had fun when I've gone back there. But I'm kind of resistant to going to Lubbock.
But I love to go to San Angelo where Juke grew up. And he's the same way. He gets troubled when we pull into San Angelo. But he's kinda happy and free in Lubbock.
Chris: Really? 'Cause he went to college in Lubbock…
JCP: Yea. That wasn't growing up.
Chris: And he found a lot of fun people in Lubbock.
JCP: Yea. He did. He was quite a character.
Chris: Did you know him then? In college?

JCP: I didn't. No, the first time I knew him and the first time I got a crush on him was from seein' the posters that he was doin' for Butch Hancock here in like '71 or '72, that illustrated each of Butch's songs. You know, I saw his work on a telephone pole and I just couldn't believe it! People where tearing 'em off the telephone poles as fast as they could pick 'em up. Everybody was keepin' 'em.
I just look at those qualities that were represented there, like the Joy and the

Naughtiness and all that stuff, and I really wanted to meet that guy that did that. So before I ever met him I had formed a relationship to his work.
Chris: Now, you were living here in Austin then?
JCP: About '70, yea.
Chris: What was going on then? What were you doing then?
JCP: I've always been a child protective services worker all my life. I'm kinda committed to that. I believe in that kinda work, although it's a horrible agency. I guess that's what I was doing.
I moved here with Jesse Taylor. We lived together for several years. We moved down here so Jesse would have a better place to do music than in California. 'Cause we didn't live in California too long, but he just didn't find a band that he really wanted to play with, so we came back to Austin.
I went first from Lubbock to California and then went back to Lubbock, then I think I went to California, then I came to Austin, then I went to Beaumont, then I came back to Austin. So that's my whole life history.
Chris: And you're back in Austin for good now?
JCP: I don't seem to be moving every three months like I used to.
Chris: That's good. So in the mean time, I guess, Jimmie Gilmore, Jesse Taylor, and Guy Juke were all still in your life. Y'all were all very tight. [Laughs]
JCP: Yea. Pretty much most of the time.
There was also just a feeling of the one-ness of the group, almost all of the time. It was almost like centrifugal force, like this bunch of people who we all could go out further because we had this center that held us so there was a lot further out that we could go. It was just an essential situation to me. I had to have that. I had to have the friends around.
And even though we don't live each other's lives as much as we did - It seems like in our twenties, we were all living each other's lives and we were all in each other's living rooms constantly. Now it's no that so much any more...But I'm having a feeling that as we get really old, that it might go back to being that close again. It seems like everybody went off and got in their own deal that they do, and we interconnected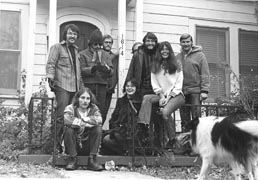 with each other as much as we could through our own deals.
Chris: Talking about the "friends" thing…I think maybe the powerful thing about Lubbock is just that, really. Friends are the only thing you have there, and you do feel that bond together.
I think a lot of what I've seen, just from a literary point of view…what's caused me to do this project -and I'm not the first to notice it but - Obviously there is this community of people from Lubbock that could almost be called a "school of music and literature." I'm recognizing that in my own work, and other people my own age recognize it, also, as a heritage…
JCP: Oh, that's neat!
Chris: And any of the big traditions…Like the "Beat" tradition was a group of really close friends, who all knew each other in New York City and San Francisco. Also, Hemingway and Fitzgerald, and Getrude Stein - The Lost Generation.
So I very much recognize this real artistic culture from Lubbock that has arisen because of this "friends" thing.
Maybe that's it: "True friendships." It seems easier to develop those "real" friendships in Lubbock; As opposed to when I lived in California. I realized it was very hard to make friends with anyone in California…never made friends with anyone there.
JCP: Yea, I know. I don't think we did either.
Chris: And most of the people I know from West Texas who have gone out there have said the same thing.
[GUY JUKE ARRIVES AT THE TABLE]
Go to Page 2
-continued-